Rumors: HTC Communicators 2007 (part2)
| | | |
| --- | --- | --- |
| | Авторы, перевод: HPCru | Дата статьи: 13.01.2007 |


Внимание! Этот же материал есть на русском: X-Files - HTC коммуникаторы 2007 года (часть 2)
This material is based on rumors, circulating Internet lately. For accuracy of all data we shall not warrant, as can still change. But, apparently, we are expected with very perspective year and half-year.
We would like you to get acquainted with four fresh PDA phones and two smartphones, which we have included into the second category. First of all we shall remind that at present the HTC lets out 2 series of mobile devices – under indexes "P" (PDA Phone) and "S" (Smartphone). Next year we expect the release of the third series – "X" (unique known representative – HTC X7500).
P-files - HTC Kaiser, HTC Elf
Apart from the model the HTC Love, mentioned above, in the first half-year four new PDA phones will be let out. Very little is known about them, but it is enough to make a rough idea of them. The most curious model carries the code name Omni. This PDA is likely to become the long-awaited sequel of the legendary HTC Universal, the first PDA phone with the VGA-screen, because it has the same form-factor (with the rotary display and the QWERTY-keyboard) and supports 640x480 with 3.6" diagonal. Most likely the novelty will be of a smaller size than its famous predecessor and will inherit all its hardware characteristics (support of 3G networks, the full wireless set and the powerful processor), i.e. it can become a new top-model. There is no more information about it yet.
Two other HTC PDA phones, which are expected in 2007, may be attractive for corporate clients due to their price-quality ratio. The first PDA under the codename Panda will be interesting, first of all, by the large QVGA-screen, with a diagonal at the level of a pocket PC (3.5" - 3.7"), but with usual for today processor (400Mhz) and with the full wireless set. (Except support of 3G).
The second PDA phone, called Elf, may be included into the category of budgetary PDA phones, as having 2.8" screen diagonal, common for modern devices, it possesses only a base set of characteristics (200 MHz, wireless part with support of Bluetooth, but without Wi-Fi). This device is a bright example of the new class of inexpensive and fashionable gadgets: thin case, original design etc. The advanced functions have remained insignificant. The usual hardware buttons in Elf will be replaced by a touchpad, so in most cases you can operate this device with a finger without taking out the stylus.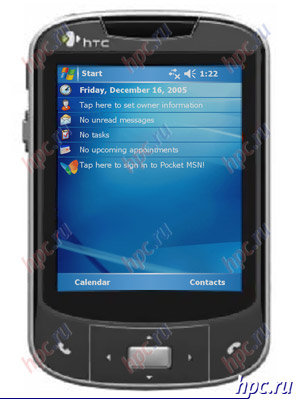 HTC Elf
S-files - HTC Wings, HTC S710 (Vox)
Apart from the smartphones HTC S710 (Vox) and HTC S650 (Cavalier), mentioned above, the following year we expect two other models – a flagman with the QWERTY-keyboard called Wings and a fashionable clamshell smartphone with advanced characteristics.
The first is likely to become a logic development of the HTC Vox idea, i.e. it will also be equipped with two keyboards – digital and qwerty. The hardware will be updated by means of a more powerful processor, an advanced telephone module with the support of 3G and GPS. Thus, this model will help to overcome the hardware break between Smartphones and PDA phones. The only serious difference still will be a usual (not a touchpad) screen, common for all devices with Windows Mobile for Smartphone.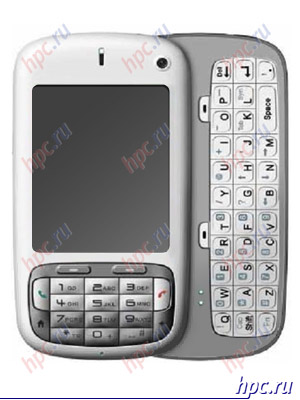 HTC Wings
The second smartphone is a fashionable clamshell smartphone based on Qtek 8500, but more advanced and functional (the full wireless complete + GPS) and two displays – external and internal.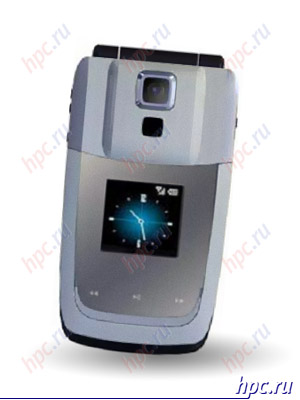 HTC Smartphone, unknown
Apart from these devices, in the near future we expect another curious Smartphone – HTC S710 (Vox), already described by us. It is the first two-keyboard device of the kind, with the digital and the QWERTY-keyboard.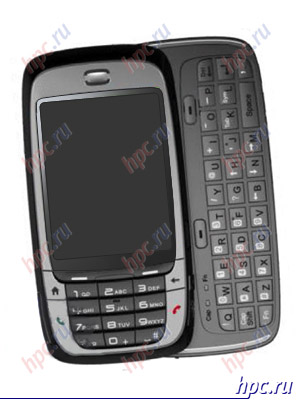 HTC S710 Vox
System information:
Operational system: Windows Mobile 5.0 Smartphone
GSM/GPRS/EDGE (850/900/1800/1900 МГц), probably UMTS
CPU: TI OMAP 850 frequency 200 MHz
Memory : 64 Mb RAM & 128 Mb ROM
Display: 2,4" TFT with the resolution of 240х320 pixels (QVGA)
Integrated camera: 2-Mp
microSD
Wi-Fi (802.11 b/g) and Bluetooth
miniUSB, USB 1.1
Dimensions - 100х50х18
Conclusions
Next year HTC will attack the market with a whole army of clones. Practically each novelty described, except for HTC Omni and Athena, represents an easy tuning of an existing model, both in "P"-series, and in "S"-series. The provident company has left the big backlash for "growth" of hardware opportunities. If in 2006 were mainly used the basic 200 MHz and wireless package (GSM/GPRS/EDGE and Wi-fi with Bluetooth), in the future we expect both of the hoary 200 MHz, and 400 MHz devices with the support of the third generation networks and GPS. Whether it is good or bad, it is hard to say yet. But the range of devices available, though with insignificant differences, obviously indicates the general growth of the branch, and thus, of the competition.

Обсуждение статьи в форуме